My greatest fear when I found out that I was pregnant was that my worldly travels would come to a dead halt once I had a baby. As a travel entrepreneur and owner of travel-related businesses since I was 20 years old, and living over-seas and exploring 5 of the 6 continents by the age of 30, the continued need for travel was a part of my DNA. It's probably why I waited until I was 40 to be blessed with the new role of mom.
There was never such a relief to have experienced when I saw the first smile from my infant daughter's three month old lips, while boarded on her first flight outside the womb. When her face lit up with the rumbling sounds of the jet engines as we taxied onto the runway, I knew she was going to be my new travel partner for life.
My daughter, now 19 months old, has already traveled to 3 continents and logged over 50,000 kms! Although she is a natural happy traveler, there are always things to be prepared for when traveling with an infant. Here are my top five best tips when stringing your little one in tow;
1) PACKING ESSENTIALS:
Who knew that babies come with a lot of baggage as soon as they arrive into the world? And can they live without their essentials? The answer is no, not without your sanity.
One of the very best benefits of traveling with an infant aged 0 - 24 months when they sit on your lap is they travel for free! However, their luggage is not. After a few trips of trying to jam in 50 diapers, food, clothing, wipes, toys and more, into my already stuffed suitcase (yes, you still need 5 pairs of shoes and a case full of make-up to travel even as a mom), I decided it was well worth the extra $30 to pay for an extra suitcase. It's the best $30 you could ever spend. No cramming required and things are much easier to find, especially if you get some luggage organizers such as the Air Canada Travel Packing Cubes found at Walmart. These are great for keeping those itsy little socks and shoes together and also to be pool or beach ready in seconds.
Most airlines will allow one extra carry-on for items for the baby such as a diaper bag. Here you will need a few diapers and wipes, a mixture of toys including some high concentration ones that captivate their attention for awhile and distraction toys that you can whip out anytime you need their focus. Make sure they are not prized-possession toys as it's not uncommon to lose a toy or two in the abyss between the seats or the floor.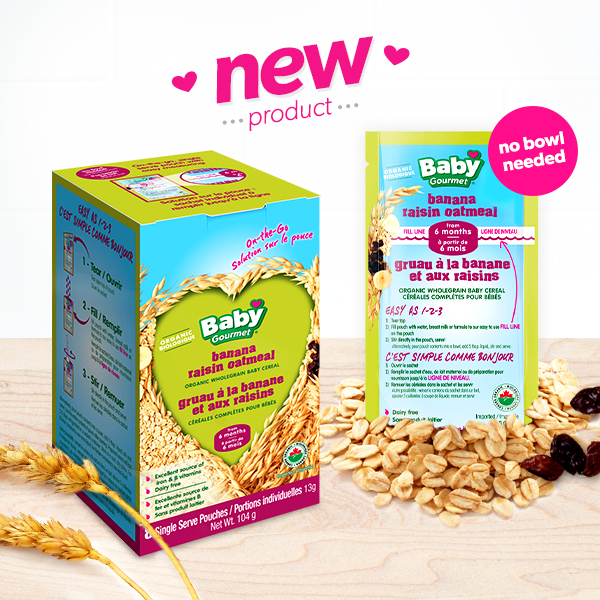 Don't forget a change of clothing for both your baby AND for you. You seriously never know what could happen when you're 40,000 feet up in the sky and you don't want to have to sit through the remainder of a flight with baby vomit or diarrhea all over yourself (and yes, I had to learn this the hard way).
When packing baby food, remember that security will not allow liquids, and this includes the squeezable food packs, unless it's under 100 ml. For this reason be sure to bring only small packs onboard and the rest in your luggage. Sometimes the baby bottle gets the pass and sometimes I've been told to dump it out so it depends on the individual screener. Powdered foods/formulas are best as you can add water on the plane. I absolutely love the new Baby Gourmet @babygourmet Individual cereal pouches. You don't need a bowl! You just pour in the water to the line and stir it with a spoon and voila, your little one has a healthy and filling meal in seconds.
If you're headed to a place with a swimming pool, then I suggest investing in a good baby pool floatie. I don't leave home without ours. It's important to get one that collapses, compresses and packs well and one with a sun visor is a bonus. These are available at Canadian Tires and Bed, Bath and Beyond and stores of the like. Remember however, they are a seasonal item in Canada so be sure to get it while you can in the summer months.
Of course you never leave home without your baby sunscreen, bug juice, children medicine, first baby passport, and a sun hat and be sure to always keep them hydrated.
2) COMFORT IS BEST:
Throw away those glitzy-glam tu-tus and tight blue-jeans and dress your baby in comfort. Breathable cottons and even pajamas work for those flights where you want them to relax and/or sleep. It's always good to dress them in layers as well as temperatures between air conditioned airplanes and hotel rooms and the outside can range from 20 degrees upward. Trust me, they are going to thank you for their comfort in their many special ways with happy naps and smiling and giggling squeals.
Try to save the drinking for take-off and landing (and in between). It's best to nurse or drink from a bottle during these times to help their little ears adjust with the quick elevation change as swallowing helps clear the ears. Even munching on snacks works. Now that my daughter is older, we bring raisins, crackers, yogurt drops and more.
3) WORK YOUR LITTLE MIRACLE:
I'm not going to say pimp out your baby.....well, yes I am. Once you travel with your baby a whole world of extra spoiling just automatically occurs. Suddenly people are giving up their seats for you on the airport shuttle, helping you lift your suitcase to the overhead bin, and words cannot even begin to describe the feeling when you hear that heavenly announcement come on the airport intercom advising, "Pre-boarding is now commencing for flight 4356 with service to Lisbon. All those traveling with small children or those needing assistance, please make your way to the
front
of the line..." It's a euphoric feeling similar to holding that first class ticket, like you're someone important. Yes, I get why they do it is because it takes us parents an extra five minutes to get sorted and settled on the airplane and so they can hurry the rest of the 'sardins' in but it feels awesome never-the-less to surpass that long line of weary travelers.
But there are other things you can do to enhance your traveling-with-an-infant benefits. I always ask at the airline check-in desk and again at the gate if there are any empty seats and if so, if we could be moved to one next to it in the event my daughter could sit there. Of the 30 flights or so we've taken together so far, I would say she's gotten her own seat about half of the time. It was only a matter of asking. Although you do still have to hold your infant during take-off, landing and at time of turbulence, it allows for an easier and deeper nap or play space and for stretching out your own body and comfort. If you can get it, some airlines even provide baby bassinets in the bulk head (first row) of the aircraft. This is attached to the wall directly in front of your seat and is possible for infants up to 8 months old and usually 26 lbs. This has to be booked well in advance as it's often a hot commodity, especially on long-haul or overnight flights.
Utilizing your little one for preferred room locations and possible upgrades also often works too. Put in that special request to the resort in advance and also at the front desk for a room close to the pool or ocean as weary parents certainly can't walk as far as non-parents....especially with a stroller that 'drags' you down. (Are you sensing my sarcasm yet?) But in fairness it does help a lot when you don't have to lug all of your baby paraphernalia half way across the resort or have to hike miles to your room because you forgot your baby sunscreen. I found the best rooms are ground level with a patio over-looking the pool or ocean and close to the amenities that way you can still hang out outside on your patio while your baby naps inside safely, quietly and close to you. For this reason, it's great to also bring your baby monitor and camera.
4) BOOK WITH THE RIGHT PEEPS:
Not every resort or airline caters to babies so it's important to work with a travel agent who knows the right travel providers from the not-so-right ones and get you the right seats and the right rooms. This can really make or break your family travel experience. If your child is daycare friendly, there are a handful of all-inclusive resorts that now have baby clubs for those younger than 4 years of age, including Melia, Memories, Beaches, Palladium and Karisma. These play rooms are secured, managed by a team of certified childcare providers and equipped with infant toys, cribs, games and so much more.
The Azul Hotels by Karisma @AzulHotels takes their infant offerings it to the next level by providing strollers, baby monitors, bottle warmers, sterilizers, baby baths, change tables, high chairs and even gourmet baby food.
Air Transat @AirTransat offers a Kids Club wherein if you pre-register the kids online, they (and you in tow) will get access to the Kids Club or Club check-in counter, priority luggage, free seat selection, free onboard snacks, an young travelers profile logging their flight history and more.
5) DON'T STRESS:
If this is your first time traveling with an infant, don't stress. I think babies can sense when you're under distress so if you're relaxed, they will be relaxed. It can and will be a fun experience if you let it be. Of course use precautions and be safe wherever you go but strap them along for the ride of life. I can assure you that they'll love to travel as much as you do, so get them started early.
By: Laurie Keith
Travel Specialist and Agent Extrodinaire Since 1994.
www.lauriekeith.com